Program Information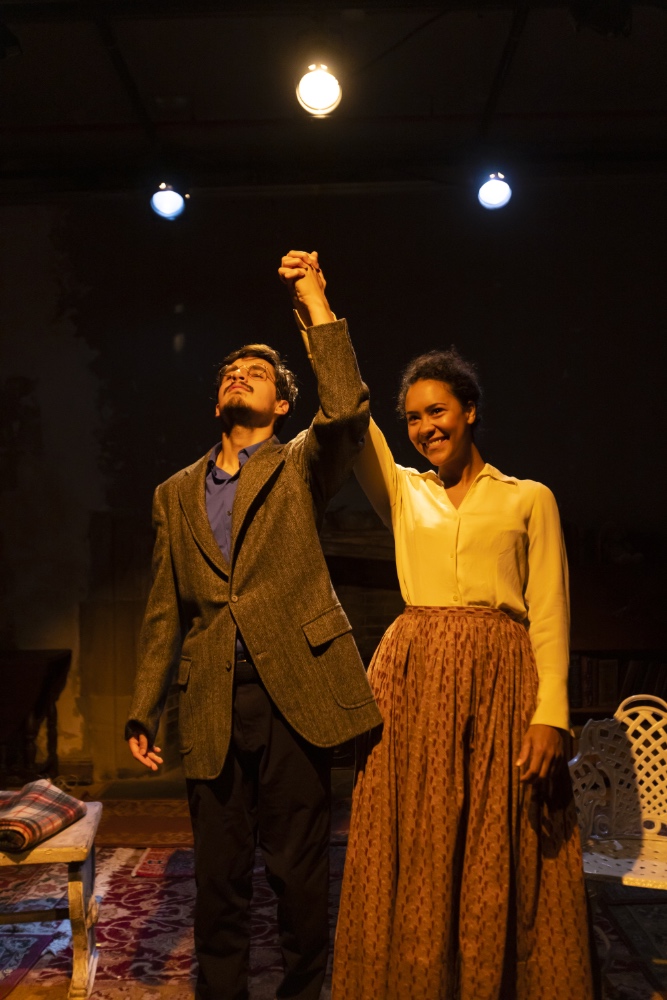 The Acting program admits talented and committed individuals from a wide range of backgrounds who possess a lively intelligence, a strong imagination, a collaborative ethos, and a physical and vocal instrument capable of development and transformation, and prepares them for work as professional actors. The program of study combines in-depth classroom training with interdisciplinary production opportunities. At the same time, the state of our nation and our field calls all theater makers to prioritize anti-racist practices and pedagogies in order to create a more just and joyful profession. At the conclusion of their training, graduates will be prepared to work on a wide range of material in multiple genres and venues.
The first year is a highly disciplined period of training, with a concentration on the basic principles of craft that lead to extraordinary acting. Models of realism are explored through work on a variety of scenes by contemporary and modern playwrights, as actors identify practical tools for mining the printed text for given circumstances, character, objective, and action.
The second year begins with a focus on verse drama and creating embodied performances of Shakespeare. In the second term of the second year, the emphasis on developing an expansive sense of truth through heightened and extended language continues with work on diverse texts from world literature.
The third year includes work on the plays of Bertolt Brecht, Suzan-Lori Parks, and other challenging writers, as well as the development of original self-scripted solo projects. Students also have multiple courses in learning to work on camera and in front of a microphone, transferring their techniques to the mediums of film and audio recording.
School production opportunities include work in a wide-ranging season of directors' thesis productions, Shakespeare Repertory Projects, new plays by student playwrights, and program projects led by faculty or a professional director. All casting is assigned by the chair of the Acting program (pending approval by the dean) based on the needs of the project as articulated by its director, the developmental needs of each student, and the desire to achieve a balance of collaborative opportunity. Actors should take note of the casting policy, described under Program Assignments. During the academic year, acting in projects outside the School is strongly discouraged, and permission to do so is rarely given.
Yale Repertory Theatre serves as an advanced training center for the program. All Acting students work at Yale Rep as understudies, observing and working alongside professional actors and directors. Students may be cast in Yale Rep productions during the season, depending upon their appropriateness to the roles available. Through work at Yale Repertory Theatre, those students who are not members of Actors' Equity will attain membership upon graduation.
Yale Cabaret provides an additional, although strictly extracurricular, outlet for the exploration of a wide range of material, including self-scripted pieces, company-devised original work, adaptations, and musicals. The program's chair works directly with the Yale Cabaret artistic directors regarding approval of Cabaret participation by actors. Actors who are double cast may not participate in Yale Cabaret productions.
As adult learners in training for a demanding profession, students are expected to attend all classes in their curriculum.