History
David Geffen School of Drama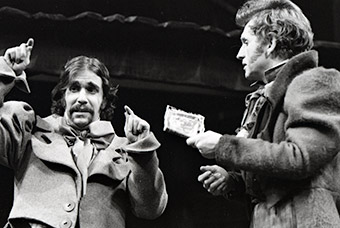 Yale University founded a Department of Drama in the School of Fine Arts in 1924 through the generosity of Edward S. Harkness, B.A. 1897. In 1925, while the University Theatre was under construction, the first class of students was enrolled. George Pierce Baker, the foremost teacher of playwriting in America, joined the faculty to serve as the first chair of the department, and the first Master of Fine Arts in Drama was conferred in 1931.
In 1955, by vote of the Yale Corporation, the department was organized as a separate professional school, Yale School of Drama, offering the degrees of Master of Fine Arts, Doctor of Fine Arts, and Certificate in Drama (for those students who complete the three-year program without having the normally prerequisite bachelor's degree).
The School is now David Geffen School of Drama at Yale University in celebration of a $150 million gift made by the David Geffen Foundation in 2021 to support tuition remission for all degree and certificate students in perpetuity
Yale Repertory Theatre
In 1966, under the leadership of Dean Robert Brustein, Yale Repertory Theatre was founded as part of David Geffen School of Drama, establishing a complementary relationship between conservatory and professional practice similar to that of a medical school and a teaching hospital.
A hallmark of Robert Brustein's artistic leadership of Yale Repertory Theatre from 1966 to 1979 was his insistence on a resident company of artists. Brustein's dream of a permanent repertory company became an inspiration to the emerging field of nonprofit theater. The model of Brustein's programming choices, emphasizing the production of new plays and classics of the world theater in vivid and inventive interpretations, has remained the centerpiece of the work of Yale Repertory Theatre.
During the tenure of Lloyd Richards, dean and artistic director from 1979 to 1991, the theater increased its emphasis on the production of new plays. Athol Fugard, Lee Blessing, and August Wilson were among the playwrights who premiered their work at Yale Rep during Richards's leadership. Yale Rep was one of the first resident theaters to regularly transfer serious work to the commercial theater, developing a model of professional producing that changed the course of new play development in the American theater.
Stan Wojewodski, Jr., dean and artistic director from 1991 to 2002, was notable for his commitment to the individual artist. Wojewodski made long-term commitments to Suzan-Lori Parks, Len Jenkin, and Ralph Lemon, as well as numerous actors, directors, and performance artists.
James Bundy, dean and artistic director since 2002, has continued Yale Rep's tradition of presenting bold interpretations of classics and extended the Rep's legacy of producing new plays and musicals. The Binger Center for New Theatre, established in 2008, underwrites commissioning, development, and production at Yale Rep and across the country. To date, the Binger Center has supported the work of more than sixty commissioned artists as well as the world premieres and subsequent productions of more than thirty-five new plays and musicals. More information on the Binger Center for New Theatre can be found here (opens in new window).
Yale Repertory Theatre has produced well over one hundred premieres, including two Pulitzer Prize winners and four other nominated finalists. Seventeen Yale Rep productions have advanced to Broadway, and many plays first produced at Yale Rep have been presented at theaters across the country. Yale Rep productions have garnered more than forty Tony Award® nominations and ten Tony awards; the theater is also the recipient of the Tony Award for Outstanding Regional Theater.